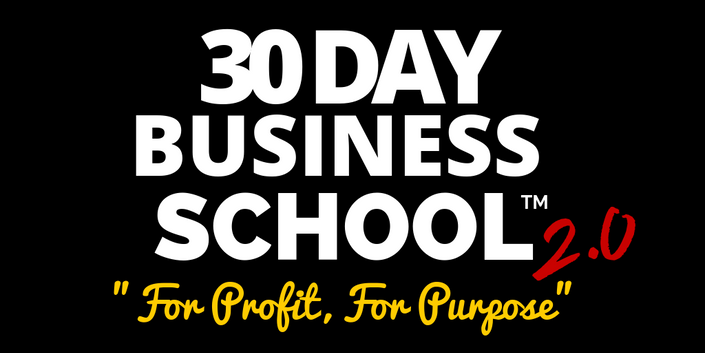 30 Day Business School 2.0™
For Profit - For Purpose
Have you always wanted to start your own business? What if I told you I had the tools to help you take action and get up and running in 30 days or less?
30 Day Business School 2.0™ offers you powerful yet easy to follow lessons on business to give you the juice you need to start something that matters!
30 Day Business School 2.0™ provides aspiring entrepreneurs with a step-by-step approach to small business.

This course is perfect for anyone who is ready to turn their passion into PROFIT!
Enroll now and get started on your journey to entrepreneurship!

Are you:
Unemployed?

Stressed out and living paycheck to paycheck?

Feeling stuck and without any options in your current job?

Looking to supplement your current income to be able to do more things you enjoy?

Feeling guilty all the time because you never have enough time to spend with your family?

Wanting to start a business but are fearful because you don't know where to start?

If you answered 'YES' to any of these questions then I know 30 Day Business School™ can help!

HERE'S HOW!

30 Inspirational Audio Lessons:
Each of these 30 audio lessons combine qualities that are often hard to find in a single program: inspiration and practical advice! You'll find wisdom and actionable steps to help you get clear on your business idea, build your courage muscle and finally launch the business of your dreams!
Downloadable Course Checklist:

This checklist will be your road map throughout 30 Day Business School™! Use this tool to track your progress as you listen to each of the transformational audio lessons that will be delivered to your inbox daily! Keep it handy to help you stay organized and productive over the next 30 days.

Here Are The BONUSES You'll Receive:
Should I or Shouldn't I Incorporate Audio Teaching

"5 Tips to Get Focused and Finished!" Audio Teaching

Rachel's Recommended Reading List

Rachel's Resource List

30 Day Business School Record Keeping Guide

Weekly Discretionary Time Inventory Chart

Business Website Building Tele-Class


Craft Your Purpose Statement Template
Check Out What People Are Saying!
I have attended many different events and worked with other life coaches before but Rachel is different! She is really concerned with helping women fulfill their purpose and giving them the tools to create businesses that matter. She is honest and straightforward and she provided the feedback I so desperately needed to regain my focus on my dream. If you are serious about reaching your goal of starting the business of your dreams, I wholeheartedly recommend you to work with Rachel! She pushed me to never give up on myself and what I want out of life! - Twla Sauls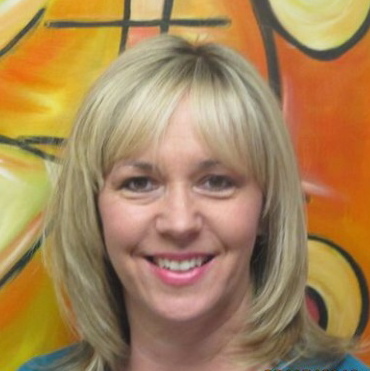 Fear was my biggest obstacle in moving forward in my business. I was putting too much thought into the final outcome and I needed help with a step by step approach. Using Rachel's advice has helped me obtain the information needed when I was stuck and had no idea what to look for or how to look for it. I did more in the week after our session than I could have ever imagined could be done! She was so helpful in getting me out of the spin of fear that I was in. - Robin Curto, Mosaic Life Ministries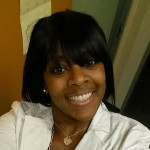 My faith and purpose have been restored! Working with Rachel allowed me to get the positive reinforcement I needed for where I am life. She breaks down her teachings in a way that make the material easy to understand. She is an inspiration! Rachel enjoys helping others succeed and it shows! She opened my eyes to things that I'd never thought could holding me back in my life. She helped change my thought process. Rachel has a way of bringing women together and propelling them into their purpose! She is truly one of a kind!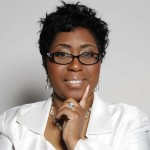 I am a visionary by nature and although this is a good thing, it causes me to struggle with focusing on just one thing from time to time. Through her teachings, she helped me to see the importance of narrowing my focus in order to see things get done! Rachel is very straightforward but she sprinkles everything with love. I have a great deal of respect for her level of transparency as well I loved the stories that she shares from her personal journey because it helped me to see that it's possible to reach my full potential and walk in my destiny. She has a deep sincerity and love for her clients that resonates from within. After working with her, I felt inspired and motivated to continue my journey of completing the assignment that God has for me. Everything that Rachel shared was so applicable for my personal and professional growth!
About Your Course Instructor...
Your Instructor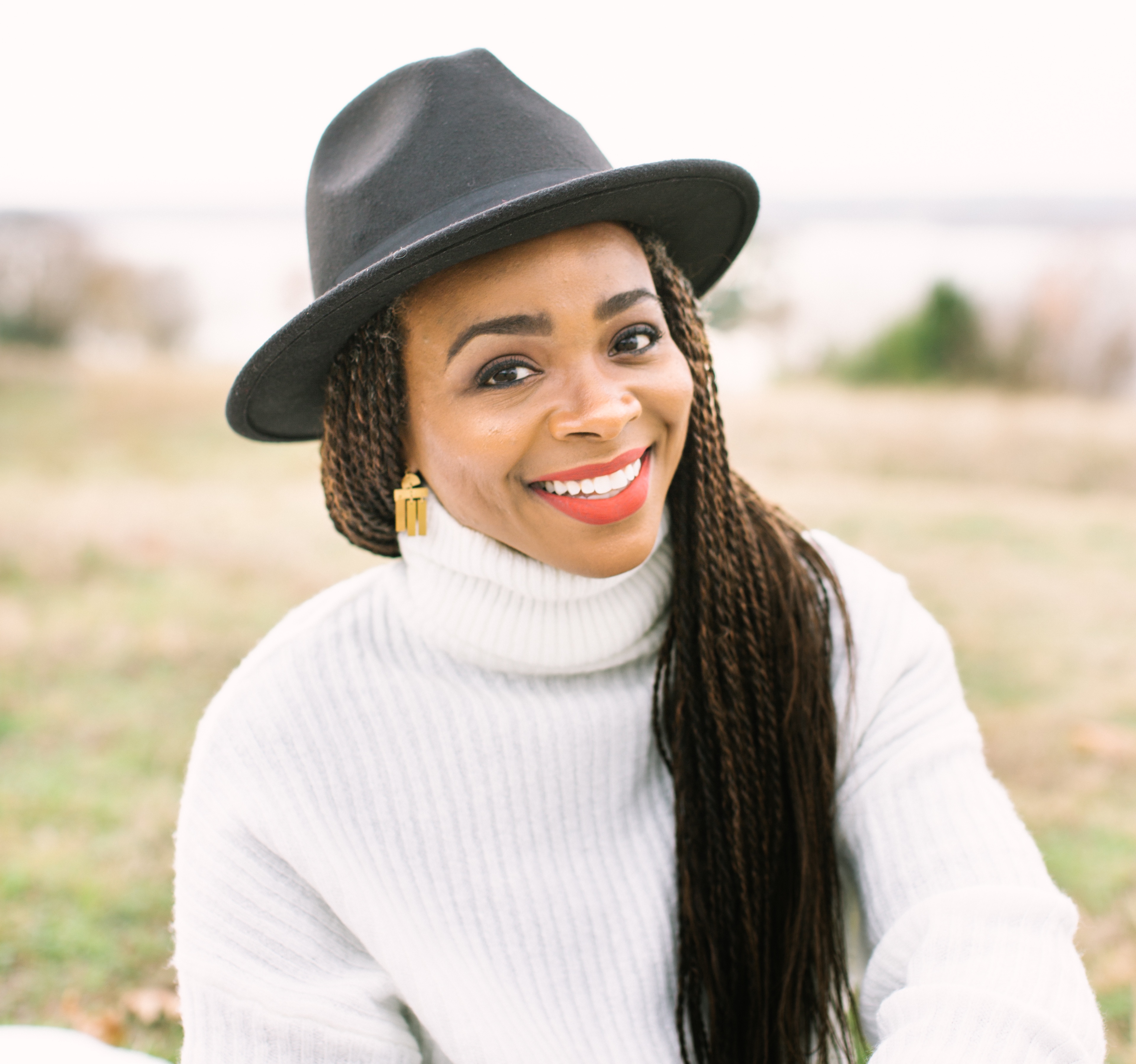 Rachel L. Proctor is
a second generation entrepreneur. Growing up and working in the family business as a small child is the flame that ignited her fire to help other aspiring entrepreneurs realize their dream of business ownership.
Through her inspiring blog posts, on-demand training products and one-on-one coaching, she's here to challenge you to increase your faith to take purpose-driven risks and shake up your approach to starting and growing your business. She'll show you how to turn your ideas and passions into purposeful actions to create a business that will change the world.
Recently, Rachel was recognized by the Dallas Business Journal as a business leader to look out for in their 2016 Top 40 Under 40. Moreover, she's been able to coach people in over 10 different countries so far through her online programs!
Your Complete Course Outline...
Course Curriculum
Purchase Agreement and Earnings Disclaimer
Available in days
days after you enroll
Planning, Protection, Processes
Available in days
days after you enroll
Frequently Asked Questions
What is 30 Day Business School 2.0™?
30 Day Business School 2.0™ is a course I designed for aspiring entrepreneurs who are ready to take the plunge and live the life of their dreams! This 30 day course was created to provide inspiration, motivation and tangible resources for people who are looking to go into business for themselves or already in business but may need advice on how to take their current endeavor to the next level. Each lesson was specifically crafted to pinpoint common pitfalls that generally keep first timers in business STUCK and unable to move forward. 30 Day Business School 2.0™ will give you the firm foundation you need in order to become your own boss and live a purpose filled life on your own terms!
How do I know 30 Day Business School 2.0™ will actually help me start my business? Can you guarantee my results?
No, I can't give you a formal guarantee, but I will say that you can expect to achieve breakthroughs if you do the work and consistently take action on the principles taught in the course. If you follow the program, take it seriously, and do the work and assignments that are put in front of you, it's more than reasonable to expect to achieve what many others have already done. Everything you're going to be learning is stuff you can continue to implement for years to come, the value is really priceless. If you don't believe that you're going to stop at nothing to achieve these results, then quite honestly, you shouldn't invest the time it will take to do this course. But if you truly desire a change in your life, then it will be well worth the time you will have to put in to see results! This is not a get rich quick scheme or a quick come up. Starting your own business will require you to work hard and dedicate time to see your dream through.
How long do I have access to the course?
As long as you have an active 30 Day Business School 2.0 subscription you will have full access to all the course material.
What if I want one on one help directly from you Rachel?
While I will be teaching all the course material in 30 Day Business School 2.0™ via pre-recorded lessons, there are plenty of opportunities to work with me one on one. The first way that you can work with me is through a personal Coaching Session. You can get info on my coaching sessions and book a session over in the COURSES area. Another way that you can work with me is through the eMErge® Online Mentorship and Accountability Group. Visit www.RachelLProctor.com to learn more about ways you can get specific one on one advice on faith, life, love and business through my Mentorship Group.
What if I dont know what I want to do in business just yet? Can I still take 30 Day Business School 2.0™?
Yes! I have a specific lesson in 30 Day Business School 2.0™ on "Pinpointing Your Purpose" which will launch you into discovery mode and help you land on the perfect idea for your business. Even if you already have a business idea, this lesson and others in 30 Day Business School 2.0™ will help you uncover the BIGGER purpose for your business and entrepreneurship as a whole.
What is personal development coaching?
A personal development coach is similar to a life coach and even an athletic coach in many ways. When you do personal development coaching with me, I help you first evaluate where you are and what your life is like now. Through powerful questions and reflective exercises, you start yourself on a path to figure out where you want to be and how you can get yourself there. You decide exactly what goals will best allow you to lead yourself where you want to be and we develop a goal setting strategy. You set your goals, and determine the best actions to can take to achieve those goals. Personal development coaching is about helping you find your purpose and uncovering your values, your passions, and your motivation to create the life you desire. My goal is to help you develop your ability to connect with yourself and other people in all areas of your life which will empower you to take control of your life, and learn to make clear decisions around your business and other vital areas in your life.
I'm still undecided. What should I do?
Ask yourself these questions: With clarity around my plan, supporting and motivating relationships and proven tools for success, what could be possible for my life, relationships and business? These are all things 30 Day Business School 2.0™ is here to help you with. Now, I ask you: can you afford not to sign up? How bad do you want a change in your situation?
What is the Refund Policy for 30 Day Business School 2.0™?
All sales for this course are final however you can cancel your monthly subscription at any time.
START LIVING YOUR DREAM - NOW!
Get INSTANT ACCESS to all 30 lessons + BONUS CLASSES + an invitation to the PRIVATE Facebook Mentorship Group with Rachel!
Enroll using the link below and get started today!